Beautiful Widgets 5 gets a complete redesign and full Jelly Bean compatibility
7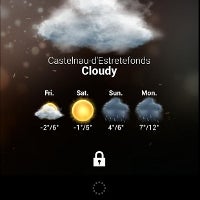 Android's first paid app that reached the 1 million downloads milestone is, no surprise there, a pretty widgets app called Beautiful Widgets. The developers have been promising a 5.0 versions for a while now, and it is out in all the visual glory they could muster.
This new update is fully compatible with Android Jelly Bean, which was the main culprit for the delay. Besides new visuals, we get JB notifications and lock screen widgets, a 4x4 size and new "Daydreams." A new theme store with plenty of customizations to be had is out and about, and there is a new forecast app.
While some users are complaining in the reviews that the new update has crashed their widgets, the developer seems to be helpfully going over those cases and other concerns, so head to the source link to give the $2.49 Beautiful Widgets 5.0 a shot if the video below tickled your fancy.