As Angry Birds movie nears launch, Angry Bird emoticons land with latest Skype update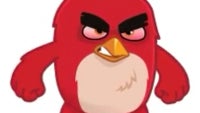 We've been hearing about
an Angry Birds movie
coming for a while now, and we've already seen a couple of
cinematic teasers
already. One may ask – "Wait... what is it going to be about, again?". Well, we've still got no idea. Yes, there are birds, and yes there are green pigs that steal the birds' eggs. Just like in the game, the feathered critters get... well – angry, and go on a mission to get their eggs back. But how one would build a comprehensive story that is based on a game where birds crash and explode themselves in various fragile constructions is still a bit curious.
In any case, it seems Microsoft has gotten on board with teasing the upcoming movie and has included two new smileys and five new animated stickers with the latest update of Skype. The emoji can be found right under the smileys tab, under the "Featured" section, while the Stickers are located one tab to the right (Stickers tab for Android / Trending on iOS and Windows).
The Angry Birds movie is scheduled to hit theaters mid-May this year. Are you going to watch it?