Ad for the Angry Birds Movie now playing on a television set near you
6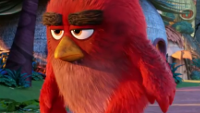 Back in 2013, when the Angry Birds were perhaps more relevant than today, Sony and developer Rovio announced that
they would produce a movie starring the foul fowl
. Even though the release date isn't until May of this year, by last September`
a trailer had been released for theaters to play
. Now, a television commercial has been made in an attempt to stir up interest in the film.
Five-years ago, the Angry Birds were a phenomenon with millions playing the games. In September 2010,
Android users joined those with an iPhone or iPad
, aiming the virtual slingshot at the evil porkers. Just a year later,
an Angry Birds theme park opened in China
. Licensing deals were made which put the Angry Birds' images on clothing, Band-Aids, game boards, sneakers, a television series and more. With its corporate head swelled by success, Rovio proclaimed that it would be the next Disney.
Unlike Disney though, the heart of Angry Birds is an online game and popularity of such things comes and goes.
While Angry Birds 2 got off to a hot start
last August, a week after the game launched, Rovio cut its work force by one-third.
While the long lead time required to make the Angry Birds Movie means that it won't be released at the height of the characters' popularity, there might be a whole new generation of fans that go see the film. Combine that with the number of Angry Birds players that never grew up, and who knows? Perhaps the movie will be a success. If so, Rovio might see a surge in new players for the series of games still available for users of the major mobile platforms. It is a formula that has worked well with Pokemon.
You can check out the new ad for the Angry Birds Movie by clicking on the video below. By the way, Jason Sudeikis is the speaking voice of Red, Josh Gad (who played Steve Wozniak in "Jobs") handles the voice of Chuck, and Peter Dinklage talks for the Mighty Eagle.
source:
AngryBirds