Are you satisfied with the battery life of your smartphone?
61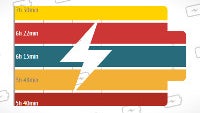 At the end of last week,
we dug deep into our considerable data set of battery life figures
over the years and from across the industry, and Paint-ed some fancy charts to make sense of it all. Turns out, at least according to our data, battery life has barely made any progress since the early days of 2014.
Of course, ours was a set of data points representing a relatively tiny proportion of the industry's smartphones. Not everyone owns a flagship, after all, and flagships seldom offer the best battery life in a company's product line. Perhaps you, unlike us, are content with the battery life you get out of your smartphone? Perhaps you're furious? Perhaps you're jubilant?
Let us know by telling us how satisfied you are with your phone's battery life.