Smartphone battery life over the years: A surprising study
65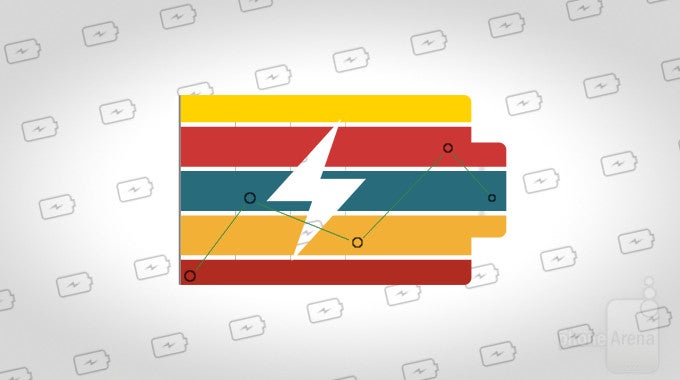 The smartphone of today can take great daylight shots, and even handle night photography if it was produced relatively recently. It can hook up to a multitude of smart gadgets that range from speakers and smart set-top boxes, down to home automation gizmos. Its screen has so many pixels on it, providing an image so sharp, that it puts even your living room TV to shame. And processing power? A flagship today has the computational power of your old laptop, if not more.
And yet, its battery life just blows. And this is increasingly becoming a priority for buyers, who are starting to understand that even older hardware in other areas has long crossed the sanitary minimum line and offers more than 'just okay' performance. The longer this continues to be the case, the more the battery life of any given smartphone will be a differentiating factor and a pronounced competitive advantage. Manufacturers know that, which is why we're all bombarded with marketing messages relating to resilience.
Unfortunately, as is the case a little too often, cold hard data and what the marketing team at this or that company will have you believe, are at odds. Battery life is as tough a nut to crack today as it was a few years prior. And we have proof.
Historic battery life data
When we first conceived of a custom battery life test of our own in 2012, the PhoneArena team was focused on providing a solution that was both cross-platform and indicative of real life usage. So we set brightness to 200 nits to mimic the realities of a typical day, and designed the script in a way as to imitate the average person's kind of usage. Does it work? Yes. Is it perfect? Absolutely not.
Then again, no single battery life test you can find anywhere is even close to perfect. Put simply, there are just way too many variables, way too many activities, and too many individual idiosyncrasies. Unless there's an objective flaw in the methodology, however, most of these tests that you can get access to on the web, are valid—but to a point. In these past four or so years of using our methodology, we've become convinced that our test is a very valid
predictor
of battery life. So it makes sense that we make use of our database and see if we can identify trends and draw conclusions.
And we did.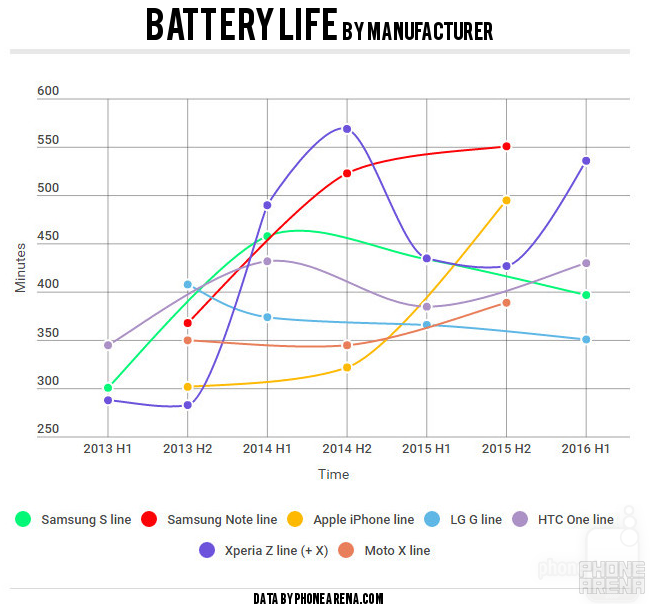 Who built your smartphone matters. That's our definitive first key finding.
To give you insight into how the data was plotted, every year has been split into two halves, all of them corresponding to a major flagship release from the companies' respective line. For Apple, the iPhone 6 Plus and 6s Plus have not been taken into account.
Who made your smartphone matters when it comes to battery life.
As you can see from the chart here, makers like Samsung and Sony have, historically, offered the best battery life. The latter, however—partly owing to its 6-month release cycle—provides more data points, and those paint a picture of extremes. A pretty awful start in the first half of 2013, to the rise at the end of 2014 owing to the excellent Xperia Z3, through the downfall of the Xperia Z3+ and Xperia Z5, and back up again with the Xperia X. Despite this variance, Sony has consistently outdone its South Korean rival in the past two and a half years.




The most troubling data on our list comes from our testing done with LG devices. These just seem to be unable to repeat the success of the LG G2 (which was an incredibly resilient phone for its time), and continue offering underwhelming longevity. The Moto X and Galaxy S lines are also looking a bit concerning at this point in time, while Apple's success with the iPhone 6s remains to be tested for consistency.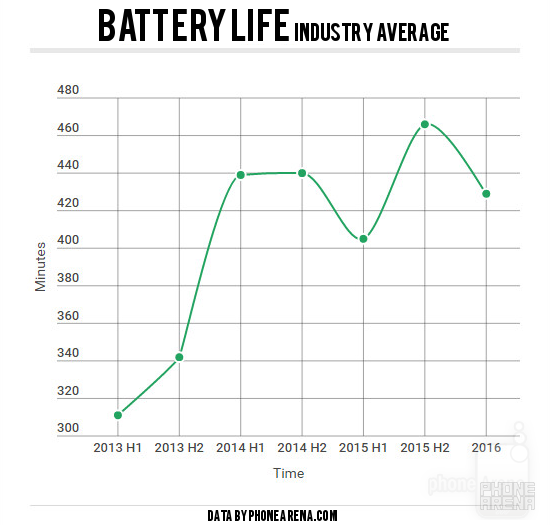 Perhaps more importantly, however, the industry as a whole has moved forward. But probably by not as much as you would've hoped for.
As the data in this chart clearly shows, the industry average is now trailing achievements set in the distant first half of 2014. Since we're only in the first half of 2016, however, we may witness a resurgence towards the end. After all, after the disastrous first half of 2015, the second half was record-setting, mostly owing to the successful Galaxy Note 5 and iPhone 6s.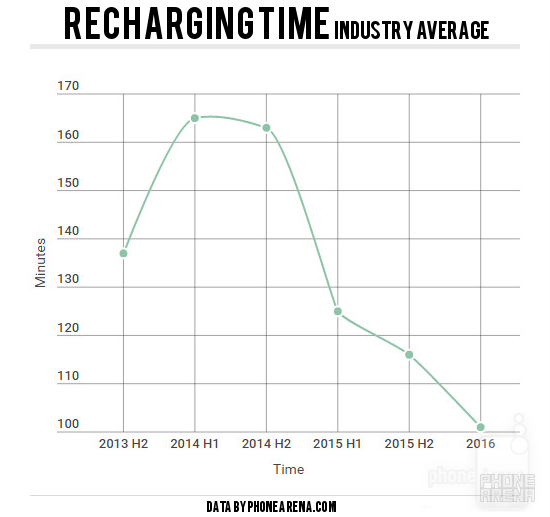 Battery life aside, charging times have dropped
significantly
.
65% improvement in recharging times across the industry over the past 2 years.
That's right, compared to the first half of 2014, when battery life was at its peak according to our data set, the time needed to charge your smartphone from zero all the way to full has been nearly halved. For example, early 2014 meant the average flagship needed about 165 minutes to charge, whereas early 2016 figures are close to the 100 minute mark.




That's a great trend, and partially an answer by phone makers to our continuing battery life woes. After all, if you can recover 50% or so of the capacity in a 15-minute charge, then uninspiring longevity is somewhat less of a concern. That, at least, seems to be the rationale, and we can't disagree completely. Still, that doesn't mean we want long-lasting smartphones any less.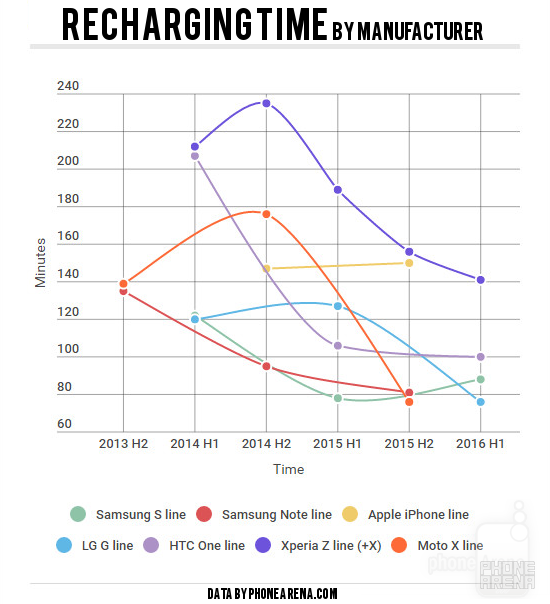 Apple is falling behind.
Indeed, when it comes to recharge times, the iPhone maker may want to think about a quick charging technology of some kind. Historically, the iPhone has been rather well-positioned in this regard due to its consistently smaller batteries, but we're now at a point where even Sony's devices are outdoing Cupertino's flagship. Compared with the LG G5, for example, the iPhone 6s charges almost twice as slowly.
Drawing conclusions
Software, battery size, processor, and screen type, all these seem to be correlated with battery life—to varying degrees. If you were to delve even deeper into the data set and identify generational changes that contributed to a spike or a slump, you'd find the same. The iPhone 6s is a great example of this, with iOS 9 seemingly behind the massive jump in endurance. In Sony's case,
the move to Qualcomm's Snapdragon 810
crippled its flagships' showing for two generations. And then, from the Xperia Z5 to the Xperia X, we witness quite the revival with the transition to the Snapdragon 650 processor and move to Android Marshmallow.
Battery life still no less of a tough nut to crack.
For the time being, however, and while some makers are improving on historic scoring, the industry trend is for disappointing battery life, barely managing early 2014 achievements. Battery life, in other words, remains a tough nut to crack, and we should all ask more out of phone makers going forward. Perhaps less time invested in gimmicks and more attention paid to core detriments of user experience?
Recommended Stories