Are you getting the Amazon Fire Phone?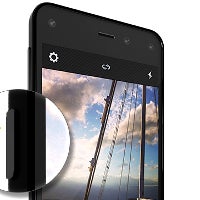 Amazon is reshaping the notion of what a typical smartphone could be with the just-announced
Fire Phone
. As this happens to be its first smartphone, it had to make a noticeable entrance, and we have to say it did indeed. Besides the stellar specs, such as a bright, 590-nits IPS-LCD display, peppy Snapdragon 800, 2 GB of RAM, 13 MP OIS camera, and a dual stereo speaker system, we are getting unique features that you can't see on any other phone right now.
We are talking about the
3D-like Dynamic Perspective sensor system
, where the invisible infrared illumination of four frontal cameras is combined with the gyroscope, accelerometer, magnetometer, barometer, proximity sensor, and ambient light sensor. This allows the Fire phone to follow the location of your eyes and head numerous times per second, and adjusts the interface accordingly, giving perspective to the typical flat 2D images you see on a regular handset. These can also be used for touchless interface navigation, scrolling, or even gaming, too.
Amazon has also thrown in all the music, movies, TV series and reading apps you can think about, tying it up in an ecosystem of its own. Moreover, there's a new service called Firefly, which can recognize over a 100 million objects - from songs, through dishwasher soaps, to phone numbers on a poster, and find them at the lowest price, or throw more info about them at you. The laundry list of new features is plenty, so the Fire Phone is shaping up to be one of the most interesting handsets for the year, and out of the blue at that. This is why we wanted to ask you whether you are intrigued enough to get it for two Benjamins when it lands on AT&T July 25th. Check your preference, and throw an argument or two in the comments.