Archos unveils brand-new 101 XS tablet: a Transformer wannabe, slim and stylish
4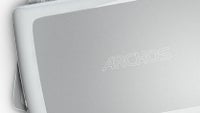 Archos has been very consistent in tablets - it has been making media players since the early days in the industry, and they just smoothly flowed into larger screens and eventually tablets, and now the company introduces the Archos 101 XS tablet, the first of its new XS (extra slim) lineup.
Archos has put its focus on design and brings a really slim and well looking device with the 101 XS - at 0.31 inches (7.8mm)
it's actually 15% thinner than the new iPad
. The weight is 21 ounces, or 600 grams, also lighter than Apple's tablet.
But it seems that the Android-based Archos 101 XS is taking more on the Asus Transformer series than on the iPad. It comes with a brilliantly designed
"magnetic coverboard."
This basically is a very slim and light keyboard that doubles as a cover. With it, the Archos 101 XS is still not too thick at 0.51 inches. Slide it to separate it from the tablet and you can use it as a keyboard dock and stand for the tablet.
The rest of the specs match the mid of the road tablet nowadays, but can't compete with high-end kickers like the iPad and say the Transformer Pad Infinity. You get a 10.1-inch 1280x800-pixel display, a dual-core Cortex-A9 processor clocked at 1.5GHz and with PowerVR SGX544 graphics, and 1GB of RAM.
One thing to consider about the Archos 101 XS, though, is that its battery life isn't exactly stellar. On video playback, you can expect it to last around 5 hours, less than a half of the iPad's capacity.The tablet will ship with Android 4.0 Ice Cream Sandwich, but Archos promises it'd bump it up to Jelly Bean in early Q4.
Still, if you like the magnetic coverboard idea, the thinness and the
relatively affordable $399 price tag
, and don't think you'd use the 101 XS a lot on the road where battery performance matters, it's definitely an interesting offer.
source:
Archos
,
AnandTech
Recommended Stories