Apple's Q4 numbers show higher revenue but lower profits
31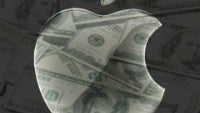 Apple has just announced its earnings report for its fiscal Q4 of 2013, which ended in September. This means that Apple's fiscal Q4 only includes about a week and a half after the release of the new iPhone 5s and iPhone 5c. And, the numbers are a bit of a mixed bag for the company as revenues are up, but profits are down.
The good news is that the announced revenue of $37.5 billion was not only up from $36 billion year-over-year, but it beat expectations. Apple had projected to be somewhere in the $34 to $37 billion range. But, the company's gross margin was down from 40% to 37% year-on-year, which led to profits of $7.5 billion which is down from $8.2 billion in Q4 2012.
Apple set a new record in Q4 iPhone sales, likely because of that launch boost of the new iPhone 5s and 5c. iPhone sales were 33.8 million, which is up from 26.9 million in Q4 2012. iPad sales basically held steady at 14.1 million. But, the reason why profits were down is that the average selling price of the iPad is down, and the average selling price of iPhones is at an all-time low. Apple's revenue per device sold has been dropping, and kept doing so with the iPhone at $577, and iPad at $439.