Apple's A12 chip has 70% more transistors per square mm than the A11 chip
29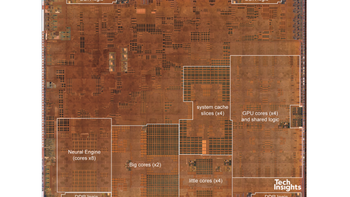 The
Apple iPhone XS
and
iPhone XS Max
are both powered by the A12 Bionic SoC, manufactured using TSMC's 7nm process. The
Apple iPhone XR
will also have the same chipset under the hood when that model launches on October 26th. The 2018 iPhones will be the only smartphones available this year in large quantities that are powered by a 7nm SoC inside. Last year's A11 Bionic chipset was built using the 10nm process.
The A11 Bionic carries a transistor density of 49 million transistors/square mm. With the smaller transistors on the A12 Bionic, the density works out to 83.9 million transistors/mm, an amazing 70% difference. There are 6.9 billion transistors inside the A12. The additional transistors inside Apple's newest chipset make it more powerful and energy efficient than last year's chip.
One area where Apple is totally counting on an outsider is with the modem chip used on the iPhone. From 2011 to 2015, Qualcomm was the sole provider of this component used on Apple's smartphones. In 2016 and 2017, both Qualcomm and Intel modem chips were employed on the handsets. But last year, Apple and Qualcomm started suing each other over patent infringements and royalties. The latest news on that front came two days ago when
Qualcomm accused Apple of stealing trade secrets related to its modem chips
, and turning the information over to Intel.
With the animosity between Apple and Qualcomm, it should come as no surprise that Intel is the exclusive supplier of modem chips for the 2018 iPhones.
The 2020 models could feature Apple's own modem chipset
, which could coincide with the launch of the first iPhone models to support 5G.