Apple sold 43.7 million iPhones last quarter beating expectations; stock soars on split news
81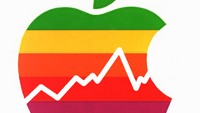 Apple reported its fiscal second quarter earnings report and it showed that the company sold 43.7 million Apple iPhones in the three month period. That is down from the 51 million units sold by Apple during its fiscal first quarter, which included the holiday season. A fairer comparison would be with last year's fiscal second quarter, a period that saw Apple sell 37.4 million iPhone units. Wall Street was expecting 38.7 million iPhones to be rung up last quarter.
During the fiscal second quarter, Apple reported sales of 16.3 million Apple iPads. That is a decline from the 19.5 million sold last year, and a big drop off from Wall Street's guess that Apple would sell 19.36 million tablets in the quarter. Apple has been losing share in the tablet market, after dominating the category from its inception.
"We're very proud of our quarterly results, especially our strong iPhone sales and record revenue from services. We're eagerly looking forward to introducing more new products and services that only Apple could bring to market."-Tim Cook, CEO, Apple
Apple has also announced a 7 for 1 stock split, and the board has also approved another $30 billion in share buybacks through the end of 2015. Outside of the miss in iPad sales, it was a very positive report from Apple, especially the better than expected iPhone sales. For the period, Apple earned $10.2 billion on $45.6 billion in revenue, beating expectations. After hours, the shares are up $41 to $566.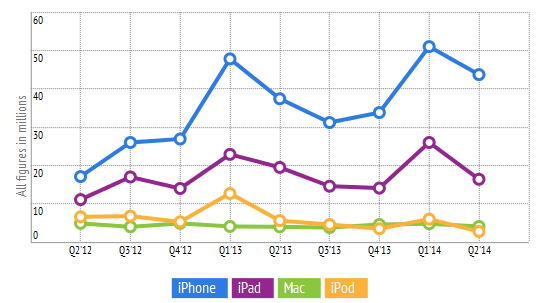 Apple sold more iPhones last quarter than expected by Wall Street
source:
TechCrunch