Apple releases iOS 4.3.1 to correct minor bugs with cell network connectivity, and more
9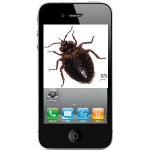 All of those Apple iPhone 4 users getting today's upgrade to iOS 4.3.1, please take one step forward. Uh, not so fast you Verizon customers. Outside of Big Red's Apple iPhone 4 users (who are still using iOS 4.2.6 launched in January), those using the iPhone 4, iPhone 3GS, iPod touch (3rd and 4th generation) the original iPad and iPad 2 can upgrade to the newly launched iOS 4.3.1.
The upgrade includes a fix for a graphics bug on the 4th generation iPod touch, repairs a bug relating to connectivity on some cellular networks, fixes a bug that created a flickering image when using Apple Digital AV Adapter with some television sets, and fixes an issue relating to authenticating with some enterprise web services.
The release of the upgrade is somewhat of a surprise to iOS owners as it had been rumored that the 4.3.1 upgrade would not be released for another two weeks. While the software was released earlier than expected, an upgrade
was
expected after researcher Charles Miller discovered a flaw in mobile Safari during the Pwn2Own hacking contest. During the contest, Miller shared the flaw with Apple in an effort to have the problem repaired.
source:
AppleInsider