Apple predicted to have made $38.2 billion this quarter
76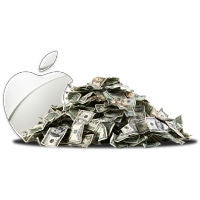 Most numbers put Android at around 70 to 80% of the global smartphone ecosystem, but when you focus on the high-end market in developed regions, Apple still holds a solid amount of the market, and that translates to profits. If you're looking for profits in mobile, look no farther than Apple and Samsung. And, new estimates are putting Apple's revenue at $38.2 billion for the quarter ending in June.
Apple won't officially announce its earnings until July 22nd, but various firms are taking on the challenge to predict what those numbers will be. Wall Street has expected Apple to earn about $37.9 billion, but Wells Fargo Securities analyst Maynard Um thinks Apple will beat that and come in at $38.2 billion. In the quarter, Apple is said to have sold about 36.5 million iPhones, which is up year-over-year from 31.2 million. iPad sales are predicted to be 12 million units.
The April-June quarter (which is Apple's fiscal Q3) tends to be the worst for Apple in terms of sales. Apple's Q1 (October-December) is obviously the best historically, because Apple usually releases its new iPhone towards the end of September. 36.5 million iPhones would certainly be a step up from the same quarter in 2013, but also a solid drop from last quarter when Apple reported 43.7 million iPhones sold.