Apple picks Ridiculous Fishing and Badland as its 2013 games of the year
4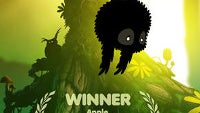 Apple has picked the best iOS games of 2013 and indie game Ridiculous Fishing - A Tale of Redemption gets the gold title on the iPhone, while atmospheric platformer Badland gets the honor on the iPad. Apple has published the listings for its picks for top games of 2013 on the App Store.
The company has also picked runner-ups for each of the two categories. Device 6, the visual novel game adorned with puzzles, is the first runner-up for iPhone. The second one is Plants vs Zombies 2, the sequel to the popular tower defense game. For iPad, Apple has selected the turn-based strategy XCOM: Enemy Unknown and the visually striking endless runner Impossible Road. All are games with unique visuals and atmosphere, something that Apple traditionally values. Looking back in time, last year Apple also gave away game awards and they went to platformer Rayman Jungle Run for iPhone and puzzler game The Room for iPad.
You can check out the current picks in the
"Best of 2013"
section on the App Store when you open iTunes on a desktop/notebook. What are your personal favorites for a 2013 game of the year? Let us know in the comments below.