Apple iPad and iPhone users beat Android fans in the Black Friday online shopping game
43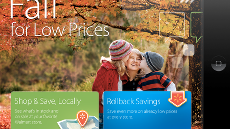 Both IBM and Adobe have independently revealed their Black Friday online shopping trackers, and it seems that iOS users are the biggest consumers this year.
Despite that Google's Android increased its market share in the US this year, relative to Apple, it turns out that iOS users shopped much more than the average green robot fan.
IBM tracked many millions of transactions coming from mobile devices at more than 800 retail websites, and the verdict gives the consumerist of the year award to the iOS fans:
On average, iOS users spent $127.92 per order on Black Friday compared to $105.20 per order for Android users. iOS traffic reached 28.2 percent of all online traffic, compared to 11.4 percent for Android. iOS sales reached 18.1 percent of all online sales, compared to 3.5 percent for Android.
Adobe's tracker includes much more retailers - over 2000 - but the end conclusion was pretty similar: "
iOS-based devices drove more than $543 million dollars in online sales with iPad taking a 77 percent share. Android-based devices were responsible for $148 million in online sales, a 4.9 percent share of mobile driven online sales
."