Apple drags its hardware guru Bob Mansfield out of retirement to help with the next-gen iGadgets
12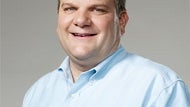 Apple knows perfectly well that the only thing between its current record share price, and it becoming the first trillion dollar company, are the next products it will come up with.
The challenge to prove itself without Steve Jobs' intuition for what gadgets people really want, will be the most daunting task on the way to that goal. The new iPad and the next iPhone, which will account for the vast majority of its profits very soon, are all products that have been concieved and ironed out under Jobs, but now comes the challenge of what's next.
Tim Cook is quite aware of that pressing issue, so he seems to be gathering the proven troopers together for the post-Jobs Apple era. Going so far as taking
Bob Mansfield out of his retirement, that was announced in June
, Tim Cook also promoted Dan Riccio to a Senior VP position, and both are the hardware engineering gurus of Apple, so a huge push is going into that direction, apparently. Whether it is for the Apple TV device, or for the iPhone and iPad that come after the 2012 editions, having proven people that can execute the Apple way around will certainly be beneficial.
Tim Cook also wants Craig Federighi to stick around, obviously, as he got bumped from VP to Senior VP as well, who will be in charge of software development for the Mac line.
Recommended Stories