Apple Maps scores indoor maps for over 20 shopping malls and airports around the world
20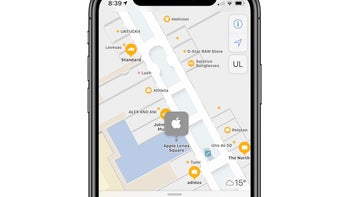 Apple Maps has just been graced with detailed indoor maps for over 20 shopping malls and airports across the US, Denmark, Singapore, Hong Kong, and Canada. With the newly-scored functionality, users will be able to zoom in and explore the layouts of the supported venues. Restaurants, shops, fast-food joints, and most other venues will be displayed for your convenience at the mall, as well as service areas like restrooms, elevators, and stairs.
In airports, you will be able to view terminals, boarding gates, and check-in areas, which is definitely an extremely useful functionality that can potentially save you a lot of woes while before your next flight.
As pointed out by
MacRumors
, you can make use of the feature by zooming on the location in question and tapping on the "Look inside" button that will appear.
The total amount of supported shopping malls and airports that are fully mapped is ever growing and can be checked over on
Apple's website
, but here's a list of all the newly-supported locations:
Lenox Square in the Atlanta, GA;
Phipps Plaza in the Atlanta, GA;
Perimeter Mall in Atlanta, GA;
Cumberland Mall in Atlanta, GA;
North Point Mall in Alpharetta, GA;
Mall of Georgia in Buford, GA;
The Shoppes at River Crossing in Macon, GA;
Oglethorpe Mall in Savannah, GA;
Peachtree Mall in Columbus, GA;
Mall St. Matthews in Louisville, KY;
Oxmoor Center in Louisville, KY;
Towne Mall in Elizabethtown, KY;
Florence Mall in Florence, KY;
Greenwood Mall in Bowling Green, KY;
Eaton Centre in Toronto, Canada;
Anchorpoint in Singapore;
Harbour City in Hong Kong;
IFC Mall in Hong Kong;
Pacific Place in Hong Kong;
Times Square in Hong Kong;
Sky Harbor International Airport in Phoenix, AZ;
Copenhagen Airport in Denmark.