Apple CEO Tim Cook took home $10.3 million in 2015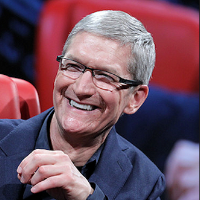 Apple CEO Tim Cook had an interesting 2015. In April, the company launched its first major new device since the release of the
Apple iPad
in 2010, the
Apple Watch
. Speaking about the iPad, the company also released the
Apple iPad Pro
with a 12.9-inch screen, and the
Apple iPhone 6s
and
Apple iPhone 6s Plus
hit global markets with 3D Touch.
While it sounded like Apple had a good year,
the value of the company declined during 2015 for the first time since 2008
. Last year, Apple's market capitalization (share price x shares outstanding) dropped 4.64% as the company shed $57 billion in value during 2015. Despite the drop in the company's share price, Cook received a 11.5% pay hike to $10.3 million last year. That included a 14% increase in the executive's base compensation to $2 million. He also received $8 million in incentives that were not related to Apple's stock, a 19% increase.
While Apple's shares briefly traded under $100 yesterday for the first time in almost 5 months, they closed at $100.70. At that price, Cook's unvested Apple shares are worth more than $310 million.
Other Apple executives took home more money than their boss. For example, CFO Luca Maestri had an 81% hike in compensation to $25.3 million last year.
Apple iPad Pro
source:
CNBC