Angry Birds app for Android packs 15 new tropical levels with its latest update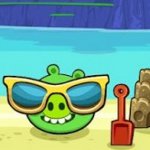 Did you already manage to somehow blow through all the
insane levels of Angry Birds Space
and want more challenge to pass the time? Well, you're in luck if you own the
original Angry Birds
game for Android. And why's that? Of course, a
new software update
is now available for the popular game bringing along some cool new levels.
Now that we're all probably looking forward to the arrival of summer, the latest version of Angry Birds,
version 2.1
, packs
15 new tropical style levels
in a fitting beach theme. Obviously, those pigs are at it again and sitting back getting some time in the sun, but as usual, it's up to those Angry Birds to end all of their fun. For those of you still playing Angry Birds Space, there's naturally going to be a tiny bit of adjusting needed to get back into the swing of things with the original's gameplay and mechanics.
Therefore, if you haven't seen that notification just yet, you can head on over to the Google Play Store and grab yourself that download. As much as we'd like to say it'll keep most people preoccupied, we're certain that most people will run through the entire thing fairly quickly – and again finding themselves starving for more.
source:
Google Play Store
via
Android Central