Angry Birds Season's Edition is here
4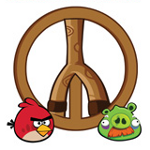 Ah well, no one said that life was fair. Game developer Rovio tweeted iOS users to let them know that those who purchased the Halloween version of the addictive Angry Birds game can receive the new 25 level Angry Birds Season's for free. Each level helps you count down the 25 days between now and Christmas, and includes snowballs. The game can be downloaded from the iTunes App Store starting today.
Android users, who never had the chance to purchase the 45 additional Halloween levels, can grab up both the "Trick or Treat" version of the game, along with the Angry Birds Season's 25 levels in one free download from the Android Market.
Rovio also announced that they are working on a couple of things for owners of Android handsets. As we previously reported, a graphically lighter version is being produced for older versions of Android, and a payment system is being devised so that those who want to can opt-out of advertising on the game.
Just in time for the holidays, Angry Birds plush toys are here priced at $14.99 for each one of your favorite characters from the game. Obviously it is a great gift idea for the Angry Bird fans that you know. For more information, go to shop.angrybirds.com.
And to celebrate the first anniversary of the game, Angry Birds fans will be getting together on December 11th. To find out about what celebratory activities are happening near you, click on this
link
.
source:
Rovio