Angel fitness sensor promises heart rate warnings and open access, storms through crowdfunding goal
2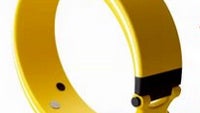 Here is an idea people are ready to pay for - an open fitness tracker that works across platforms. With devices like the Nike Fuelband and Jawbone Up limiting access to their own web services, we are basically missing a true open health and fitness wearable.
Angel is all that - it is open source, with open access to its every protocol, API and sensor data so developers can truly invent new uses and built apps with all these tools.
The Angel fitness tracker project started on IndieGoGo, a crowdfunding platform similar to Kickstarter, and it has already stormed through its $100 000 initial goal, nearly doubling it. You still have 10 days to join in with your backing and help make this a reality.
So what exactly is the Angel tracker and how can it help you? The wristband stands apart with its unique acoustic and optic sensor combination that is always on and will warn you for any irregularities in your heart rate. It requires a snug fit, but could well save your life and actually that is the inspiration that drove project founder Eugene Jorov - his father has died from a sudden heart attack, and a simple device like the Angel could have helped avert this.
It's more than that - it's a workout tracker, sleep monitor, fertility calendar, silent alarm clock, tele-nanny, heart keeper, golf trainer and tele health helper.
Currently, a $135 pledge will guarantee you one Angel tracker when it launches (the release date is expected to be April 2014). You can of course join in with more, and it's all at the source link below.
source:
Angel on IndieGoGo