Android turns 5 and what a ride it has been so far
60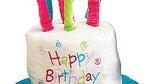 "We have the right teams and maturity to deliver what we've always wanted to do. We're finally much more closer to our actual vision in the past year than we have ever been."-John Lagerling, director of business development, Android
November 5th, 2007 was an important date in the history of mobile devices. On that date, 5 years ago, the Open Handset Alliance
introduced Android
. The goal of Android was "
fostering innovation on mobile devices and giving consumers are far better user experience than much of what is available on today's platforms
". The platforms in mind included the oft-criticized Windows Mobile, Symbian and others. A little over a year later the
T-Mobile G1
was introducing the public to Android and suddenly, smartphone users had a real choice.
Of course, it wasn't until Android 2.0 showed up on the
2009 Time Magazine Gadget of The Year
, the
Motorola DROID
, that people started getting swept up in the platform. Now,
1.3 million Android devices are activated daily
and Android is the most used OS in the global smartphone market. Not too long after the Motorola DROID made Android a household word, the
Google Nexus One
was launched and a device aimed at developers has become a
three-headed monster
with the
LG Nexus 4
, the
Google Nexus 7
and the
Google Nexus 10
. The Nexus line has become more than just a way for buyers to get the stock Android experience.
In the New York Times, Android's director of business development, John Lagerling, said that Google has constructed a firewall around Motorola. While many of you have been hoping that Google would give its wholly owned subsidiary a crack at producing a Nexus model, Lagerling said that Motorola has to bid on producing a Nexus model just like any other OEM.
"They [Motorola] stand where Sharp would stand, or Sony would stand or Huawei would stand. From my perspective as a partnership director, they are another partner. We are really walled between the Motorola team and the Android team. They would bid on doing a Nexus device just like any other company."-John Lagerling, director of business development, Android
So it's 5 years in the rear-view mirror for Android. While the platform has gone far beyond where anyone thought it would, what will the next 5 years bring? Will Android remain as relevant as today, or will something new, something that is not on the radar screen now, surpass the green robot?
source:
MobileSyrup
,
CNET