There are now 1.3 million Android devices activated across the world daily
27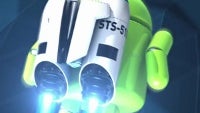 Motorola has just kicked off a massive event with no other but Google's Eric Schmidt taking stage and while we're still waiting for the new device announcements, Schmidt just let the bomb out - there are now 1.3 million Android devices activated every day.
1.3 million Android device activations per day
- we'll let this number sink in. The installed base, or the total number of Android handset out there, stands at the whopping 480 million as of now.
To give you some perspective, Google announced 900,000 Android device activations in June. That's just mind-blowing growth for just around four months, don't you think?
source: Google