Amazon brings $140 refurb Kindle Fire deal back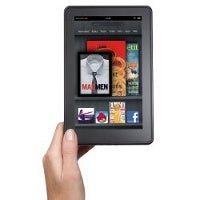 What's better than a $200 tablet? How about a $140 deal? That's exactly what Amazon thinks when offering a refurbished version of its
Kindle Fire 7-inch tablet for a mere $139
on its website. It's the second time we see such a deal on Amazon, and it definitely seems like you're getting your money's worth.
This is a $30 price drop on the standard $169 price of a refurbished Kindle Fire. What's good is that the same one-year warranty that comes with a brand new Fire, is valid for the refurbished tablets that are on sale.
You have 16 hours left to get yours, or if you wait for the last minute they might be all gone, so you'd better hurry up if you want to get one for you or as a gift. And of course, we're always hoping that a new Kindle Fire is coming sooner rather than later, so if it makes you feel good, you can think of Amazon clearing up inventory in preparation. In either case, it's a good deal - so don't hesitate to brag about benefitting from it in the comments below.