Amazon Appstore 2.0 available right now
5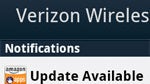 With the Kindle Fire launch just around the corner, the Amazon Appstore, home of "get a paid app for free every day", has just been updated to version 2.0. It can be download from Amazon's website or current users of the Appstore can updated from within the old app.
Aside from the color shift from black on white to white on gray gradients, or what Amazon self-describes as a "new slick design with larger fonts and darker colors", the release notes list several additions such as:
Support for in-app purchases including one time purchases, subscriptions and parental controls that force a pin or password for in-app purchases
Review permissions on details page prior to making a purchase
Faster download times and shorter load times
Other bug fixes
Many of these features finally bring the Amazon Appstore up to speed with Google's Android Market. One welcomed addition to the Amazon Appstore, that puts it ahead of the Android Market, is support for subscriptions. If you're a current Amazon Appstore user, you may be disappointed to see that there is still no way to uninstall apps or remove items from 'My Apps' within the Appstore.
source:
Amazon Appstore
via
AndroidCentral