All John Hancock Vitality policyholders can purchase the Apple Watch Series 3 for just $25 down
1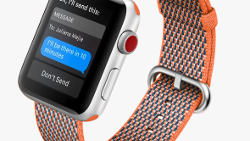 The Apple Watch Series 3 is now available to all new and existing John Hancock Vitality life insurance policyholders for a $25 initial fee. This deal, which was already available to John Hancock's permanent life insurance buyers, is now offered to those buying lower priced term life insurance. The Series 3 Apple Watch starts at $25. Normally $299, the device will be free if members exercise regularly over a two-year period.
When John Hancock first started the Apple Watch program in 2016, it limited the offer to those purchasing $2 million or more in life insurance. But members increased their activity by 20%, which has led the company to expand the program. Since the program was initiated, John Hancock Vitality members:
Are using the Apple Watch 6 out of 7 days a week.
Are increasing their step count by an average of 2,000 steps per day after enrolling in the program.
Are showing a 20 percent increase in weekly physical activities after getting their Apple Watch.
About half of them are paying $0 each month (i.e. fully funding their watch) by achieving their monthly activity goals.
Keep in mind that we are talking about the non-cellular version of the Series 3 Apple Watch. For an undisclosed upgrade fee, policyholders can purchase the Apple Watch Series 3 model that offers cellular and GPS capabilities. This model, which starts at $329, can make phone calls, send texts, and go online without having to pair with a nearby iPhone.
The idea is to force policyholders to get active by using the Apple Watch to track their exercises and workouts. This, in theory, makes the policyholder healthier and less likely to drop dead early enough to cause the company to spill some red ink. For the policyholder, the incentive to exercise more is clear. The more they sweat and grunt, the less they have to pay for their Apple Watch Series 3.
"John Hancock is the first and only U.S. life insurance company to offer life insurance buyers the opportunity to earn an Apple Watch through regular exercise. We are proud to be the driving force of innovation in life insurance by integrating a technology-based wellness program (powered by Vitality) with life insurance, to motivate consumers to protect their financial future and live a healthy life. The addition of the Apple Watch program to our John Hancock Vitality solution over the past year has already resulted in an increase in participating customers' activities and engagement as compared to others in our program. We're excited to expand the offer of the Apple Watch Series 3 to all of our John Hancock Vitality customers."-Brooks Tingle, senior vice president, marketing and strategy, John Hancock Insurance
source: JohnHancock