Alcatel joins the Android ICS party with Alcatel OT986: 4.5″ HD screen and 1.5 GHz dual-core processor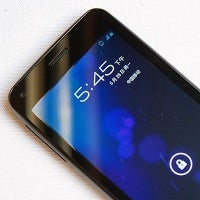 Remember, Alcatel? We wouldn't blame you if you don't - the company has kept a profile so low that only the hardcore phone geeks still noticed its low and mid-end phones. But now you might want to refresh your memories about Alcatel as the company comes back to business with the Alcatel OT986, the first high-end Android handset we've seen from it in a while.
The
Alcatel OT986
is an Android 4.0 Ice Cream Sandwich induced slab of a phone that is very,
very much like the Samsung Galaxy Nexus
. It has a slightly smaller, 4.5-inch HD screen, but features the same buttonless design and inside it comes with the same 1.5GHz dual-core processor. In case you're curious about the minute tech details, here they are:
TI OMAP 4460 Cortex-A9 Dual-Core 1.5GHz processor,
PowerVR SGX540 GPU clocked at 384MHz,
1GB of RAM,
4GB of internal memory, expandable via microSD cards,
5MP rear camera w/ LED flash, 2MP front facing cam,
HSPA+, Bluetooth 4.0.
The OT986 (oh, that name!) isn't too thick or heavy either. It tips the scale at 5.25 ounces (149 grams) and is 0.38-inch thick (9.75mm).
What we like most about the new Alcatel OT986, though, is the awesome price tag of a mere $379 off contract. Can't resist that, can you?