Adobe Flash for Android updated, more security fixes coming
36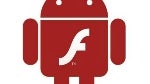 As we've reported Adobe has said that it will
cease development on future versions of Flash
for mobile in order to focus on HTML5 products. Of course, that doesn't mean that Flash is disappearing from mobile immediately. Adobe Flash 11 still exists in the Android Market and Adobe isn't pulling it out of the store. In fact, Adobe has just pushed an update for it, and has promised to deliver more security updates in the future.
Adobe has released Flash Player 11.1.102.59 for Android. The update brings a number of security and bug fixes, including a nice bug fix for Samsung Galaxy S II users which should fix the issue with audio playing without video. The update also brings support for 1080p video playback on Tegra 3 devices.
Beyond this update, Adobe has promised to issue more security updates for Flash and has even hinted at more features being added before it's all said and done. Adobe has stated that version 11 will be the last major release, but Adobe's senior director of product security and privacy, Brad Arkin, said on Twitter, "Adobe will continue to ship security updates for Flash Player mobile after the final feature release." So, that does make it sound like there are new features in the works. Unfortunately, we don't know if that includes bigger features, like a solution for hover events, or if it is just more compatibility updates for newer chipsets.