Acer Iconia Tab A200 goes official: Honeycomb initially, Ice Cream Sandwich from Jan 2012
3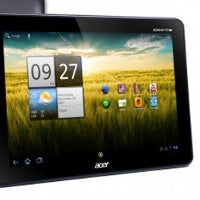 The
Acer Iconia Tab A200
showed up in a promo video recently, but up until now there was nothing certain about the tablet as it wasn't offiicially announced. This changes today as Acer was quick to confirm the leaks are true and the Iconia Tab A200 is indeed coming soon. Initially, starting in November for some market the tablet will ship with Honeycomb, but from January 2012, it will arrive pre-loaded with Ice Cream Sandwich, the latest of Android.
Except for that, there are little surprises about the new slate - it's a dual-core Tegra 2 device with 1GB of RAM and a 10.1-inch display boasting a WXGA resolution of 1280x800 pixels. In terms of design it's pretty conservative with no super slim profile but rather a middle-of-the-road 0.49" (12.4mm) thick body. It's also relatively heavy tipping the scales at 25.4 ounces (720g). There will be two versions of the tablet: one in Titanium Grey and one in Metallic Red.
The most notable addition in the software department, is the
Acer Ring
. A pretty unique skin on top of the vanilla Honeycomb experience, it allows you to quickly access apps from any screen as well as take screenshots.
It also has one precious
full-sized USB port
, so you can jump straight into the post PC era and not use your computer for picture or other file transfers. Additionally, the 8GB or 16GB of pre-loaded memory could be expanded via a microSD card.
The only unknown remains the price tag, but we'll update you on that as soon as we have more information. Except for that, what are your thoughts about the Iconia Tab A200, is this your next tablet?
Acer Presents the ICONIA TAB A200
The tablet for sharing good times with family at an affordable price
TAIPEI, TAIWAN (December 2, 2011) — Acer Inc. announces the release of the ICONIA TAB A200, the company's latest tablet. Ideal for sharing good times via gaming, e-books, movies, music, photography, social networking and more, this tablet is an amazing hub of activity for people of all ages, and it comes at a very affordable price. Shipments in select countries include the Android 3.2 OS (code named Honeycomb) beginning in November. Shipments with Android 4.0 (code named Ice Cream Sandwich, or ICS) will start in January 2012 worldwide. A free ICS upgrade to current ICONIA TAB A200 users will also be made available at that time.
Priced right and looking sleek from all angles, the ICONIA TAB A200 stands out in Titanium Gray or Metallic Red. The rear side is soft to the touch and features an eye-catching pattern. Made especially for multimedia enjoyment, this tablet packs hardware and apps for loads of fun. Visuals are fantastic on the generous 10.1″ multitouch screen, and even thrilling games run smoothly thanks to the NVIDIA® Tegra™ 2 Dual Core 1 GHz processor and gyrometer.
The ICONIA TAB A200 improves multitasking with the Acer Ring interface for setting easy-access apps from any screen. It also features Screenshot, which quickly captures web images, articles, Google Maps and even smiling faces from video calls. Screenshot can be used in any app on any screen for maximum convenience.
Adapted perfectly for mobility, this tablet has a full-size USB port for hooking up other devices and a MicroSD slot for passing data. A 2 MP web camera enables face-to-face chats for keeping friends and family close at hand wherever you are. Whether on the road or at home, sharing multimedia is easy; you can read an e-book or watch a streaming movie, anytime. For enhanced social networking the ICONIA TAB A200 includes Acer SocialJogger, which consolidates Facebook, Twitter and more.