Acer Iconia B1 is now official – 7 inches of Jelly Bean for under $150
8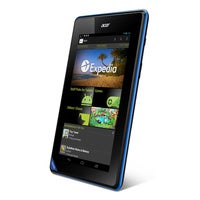 Well, what do you know – the
Acer Iconia B1
has been officially announced just minutes ago, exactly as we expected. For those of you who haven't been following the news lately, what we're dealing with is a tablet that has nothing to impress you with other than its price tag. Interestingly, pricing is one of the few details that have not been pinned yet – all we know is that Acer will ask less than $150 for the Iconia B1. But when it comes to hardware specs, on the other hand, we've got it pretty much all laid down.
What the Acer Iconia B1 has to offer is a 7-inch display with resolution of 1024 by 600 pixels, dual-core MediaTek 8317 chip running at 1.2GHz, 512MB of RAM and 8GB of storage that is expandable with the use of a microSD card. There's also a front-facing camera of 0.3MP and support for Bluetooth 4.0. Android 4.1 Jelly Bean comes pre-loaded out of the box.
So yeah, the Acer Iconia B1 is nothing impressive when taking solely its hardware features into account. But given its low price point, our guess is that it has at least some potential to be a worthy alternative to other 7-inch Android tablets, especially the
Google Nexus 7
. Let us not forget that in some markets, the latter retails for about $100 more than what the Iconia B1 is expected to cost. Whether the Acer Iconia B1 will be available in the U.S. is not known for sure yet, but we'll let you know in case we learn more on the matter.