Aaron Sorkin confirmed to pen Sony's Steve Jobs biopic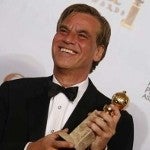 Aaron Sorkin has signed on with Sony Pictures to write the screenplay
for a movie biography of the late Steve Jobs. Sorkin will adapt Walter Isaacson's biography of Jobs titled Steve Jobs. Sony optioned the book before it dropped and immediately the studio had Sorkin in mind to pen the story.
Besides writing the script to "The Social Network," a movie about Facebook, Sorkin is known for writing "
The West Wing
", "
Sports Night
" and "
Studio 60
". Sorkin's project is the second movie about Jobs to get green lit (we love to use those fancy movie terms). As we told you the other day,
Ashtonm Kutcher has started filming "Steve Jobs: Get Inspired" which is a low budget indie flick
that deals with
Jobs' early career from founding Apple to running Pixar
. No one has been selected yet to portray Jobs for the Sony Pictures movie.
"There is no writer working in Hollywood today who is more capable of capturing such an extraordinary life for the screen than Aaron Sorkin; in his hands, we're confident that the film will be everything that Jobs himself was: captivating, entertaining, and polarizing."-Amy Pascal, Sony co-Chairman
source:
Mashable