Pictures of Ashton Kutcher as Steve Jobs make the rounds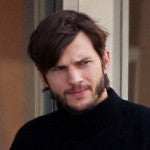 TMZ
is reporting that
Ashton Kutcher has donned the official Steve Jobs outfit
of turtlenecks, jeans and sneakers as the actor prepares to play the late Apple co-founder in a new independent movie. The low budget flick is said to be titled
Jobs: Get Involved
and focuses on his early career from the founding of Apple through the Pixar and NeXT years. A leak revealed that
Kutcher had been awarded the role on April 2nd
, with filming set to begin this month now that Two and a Half Men is on hiatus for the summer.
Sony Pictures,
which acquired the rights to Walter Isaacson's biography about Jobs
, is said to
also be interested in producing a movie about the executive
. Sony is trying to get Aaron Sorkin, the man who created
The West Wing
and was a screenwriter for
The Social Network
to pen the script. As for the role of Steve Jobs in the Sony movie, the last we heard was that
the role could be given to one of two ER alumni, George Clooney or Noah Wyle
. Wyle has the advantage of having portrayed Jobs before in the made for T.V. "
Pirates of Silicon Valley
".
source:
TMZ
via
electronista