AT&T retires Smart Limits service, launches new app to manage parental controls
1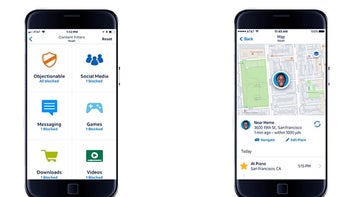 AT&T has just
announced
that it will discontinue its
Smart Limits service
effective November 26. However, customers using the service will be able to benefit from its features by getting the new AT&T Secure Family app.
The new AT&T Security Family is an upgraded parental control app that comes with enhanced location features. Naturally, all these improved features don't come for free, as parents will have to pay $7.99 per month to benefit from what AT&T Secure Family has to offer. On the bright side, they will be able to monitor up to 10 lines.
Besides location tracking, the new app can send a parent alerts when their child enters or leaves a location (i.e. home, school), filter or block apps and online content based on age settings, as well as set a schedule to limit a child's internet access.
Other features available via the new app include location history and the option to prevent purchases from the App Store or Google Play Store. Some of these features will only be enabled after installing AT&T Secure Family companion app on child's device and pairing with AT&T Secure Family.
Customers who are already subscribed to AT&T's
Smart Limits
service will be directed to download the app for their compatible devices. Also, it's important to note that some features that are now available via Smart Limits, such as number blocking and reminders to use Wi-Fi, will be going away, which means they won't be included in the new app.