AT&T's Moto X is now in stock and ready to ship for $199 on a 2-year contract
11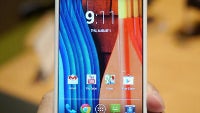 It's sometimes the most absurd thingsthat make us realize how fast time is flying by. It feels like justyesterday we were all over the Moto X and the novel features, both interms of appearance and software, that it brought to the table.Today, 22 days later, the Moto X has finally finished the proverbialtrek: from concept, through production, right into our hands.
AT&T's Moto X will set you back$199 on a two-year contract, compared to the rather steep $579.99you'll have to dole out should you want to remain contract-free. Thesmartphone is also available on a 1-year contract ($449.99) and alsounder AT&T'sNext program, which allows you to trade-in your smartphone every12 months. Unfortunately for some, the Moto X and the MotoMaker (Motorola's customization suite lets you design your Moto Xexactly like you want it) are currently only available to AT&Tcustomers, but Verizonhas indicated that this won't be the case forever.
So is the Moto X on your shoppinglist? If so, then make sure you takea look at our in-depth Moto X review and also consider skimmingthrough our handy list of Moto X coverage, which should help youmake a better-informed decision.
source: AT&T