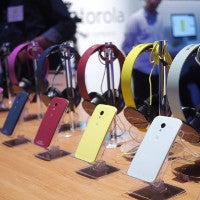 Curious about the custom designing process that's attached to the just announced
Moto X
, like as in how you'll be able to actually choose your colors, patterns, and accessories? Well, we have you folks covered, as we give you a sneak peek at
Moto Maker
– Motorola's online portal for customizing the Moto X.
Currently, it's
exclusive to AT&T
, but we're crossing our fingers and toes that many others will join it too. Simply, it offers a totally new experience when it comes to getting your device. Essentially, Moto Maker gives the control to the buyer, as they're able to select from a wide array of options to deck out their Moto X. From paint jobs to patterns, Moto Maker even allows users to select the color for the handset's accents (power button, ring around the camera lens, etc) – as well as complementing it with a matching case or headphones accessory.
Interestingly enough, they'll even offer customers with some wood grain options in the future – giving the phone that rustic look for those who are into that kind of style. So how long will this take? Well, considering that it's all assembled here in the good old U.S. of A., Moto is able to put it together and shipped to its destination in roughly
4 days
. However, it can take a smidgen longer if they're out of a certain color, pattern, or accessory.
Moto Maker demo