AT&T stores begin to see dummies for the Palm Pre Plus & Pantech Breeze 2?
This article contains unofficial information.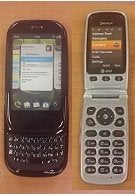 You know that an inevitable launch is right around the corner whenever AT&T stores start to receive dummies of the phones that are expected to be available soon. AT&T's Palm Pre Plus and Pixi Plus still doesn't have an official launch date, but after some stores have begun to receive dummies for the Pre Plus, it shouldn't leave any doubt that we can all expect an upcoming release. Now that the boat is somewhat steady in Palm land, AT&T customers can still look forward to a healthy release so that they can finally get a taste of webOS and all of its multi-tasking goodness. Quickly approaching the anniversary of the original Palm Pre's launch with Sprint, AT&T customers are now just seeing the handset slowly becoming a reality. Not to be outdone by the venerable smartphone, stores are also receiving dummies for the rumored lowly flip-style successor to the Pantech Breeze – currently being referred to as the Pantech Breeze 2.
Palm Pre Plus Specifications
|
Review
(CDMA)
source:
Engadget