AT&T drops the price of the BlackBerry Torch 9800 to $100
1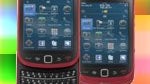 Although we've seen
online retailer Amazon
bring the price of the next generation BlackBerry Torch 9800 to the $100 price point, we're now witnessing AT&T directly offering it at the same exact price.
Sundays generally bring forth new sales on specific products, but we're sure there are going to be some AT&T customers out there who will be surprised to find RIM's latest handset get a much deserved price chop. Now going for the 2-year contract price of $99.99, the BlackBerry Torch 9800 just might make itself the most favorable RIM handset out this season – even more when it's being offered in white, black, and red paint jobs.
So if you're been resistant on buying the smartphone due solely to its price point, now looks to be the best time now that it's priced reasonably – while still saving you some money in your wallet.
source:
AT&T

AT&T slashes the price of the BlackBerry Torch 9800 in half to $100
Recommended Stories