AOL picks Android to debut portal app and to receive DailyFinance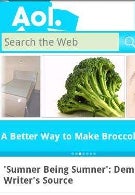 AOL has decided that the Android platform will be the recipient of its first portal app. The portal will allow you to access a hode-podge of various AOL-owned blogs and sites like PopEater, FanHouse, MapEater and Engadget. You will also be able to access AOL Mail. Engadget already has its own Android app and it is unclear whether this new AOL software will replace it or be a supplement to the download. A second AOL app will be available for Android, the DailyFinance app that is already popular on other platforms. The download will bring you real time quotes, the latest financial and market news and will allow you to track 25 portfolios.
At one time, AOL was the biggest name in the internet field, and when the company did something, other firms were sure to follow. So why did AOL pick Android? The company's new VP for Mobile, David Temkin, says that ,"Momentum is the key reason." Google is expected to activate more Android phones this year than the number of new iPhones that will be switched on. But AOL is not freezing out iOS. The DailyFinance app is already available for the iPhone and BlackBerry and Temkin says that the AOL portal will eventually be offered for Apple's touchscreen device. To install the AOL applications, go to the Android Market where they are free downloads. Or, head over to the source link and scan the respective QR code. There is no word on which builds of the Android OS the apps will work for.
source:
AndroidandMe
,
Gigaom