A quick look at Toshiba's 5.1-inch, 7.7-inch and 13.3-inch tablets
2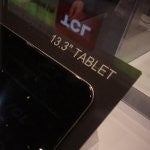 Sitting off to the side at Toshiba's booth at CES 2012 was four glass boxes. One of them contained the newly announced Excite X10 tablet that we went hands-on with yesterday, while the other boxes contained three different,
no-named mystery tablets
.
Each one of these enigmas features different sizes. The
smallest was a 5.1-inch tablet with an aspect ratio of 21:9
. Outside of that and the images that we took, there really isn't anything else to be said. No name, no specs, or even a little bit of a hint as to what Toshiba has planned.
The same can be said for the
7.7-inch tablet
that was on display. While it had no name and no info regarding specs, the placard showed that it does in fact have an
AMOLED screen
. Even though it was sitting inside of a locked box, the
images displayed on the screen were brilliant
. Colors were bright and vibrant and blacks were deep. It looked very thin, but not quite as thin as the Excite X10, although it was hard to tell.
The last of the three tablets packs a massive 13.3-inch display
. We know the least about this one out of the three because not only is there no information available but it wasn't even turned on to show us the HD display that the placard was touting. But hey, it looked nice, albeit a bit on the large side.
So there you have it, three no-named mystery tablets courtesy of Toshiba. We know very little about them, but in the event that we do get some info we'll make sure to tell all of you right away. Until then, take a peek at the photos and tell us what you think.