A new Nexus 5 press render leaks
28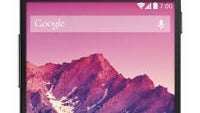 The question of when the Nexus 5 and Android 4.4 would be released is something that has been clawing at tech bloggers for weeks, and it has spurred some of the most ridiculous theories that we've seen reaching for clues where there obviously aren't any clues. But, such is the life of a fan. We love tech, and just as much as we want to know what's up with Apple's next move, or Microsoft, we want to know what's next for the Google Nexus line.
We've basically figured out what to expect with the Nexus 5 specs, the design, and even the price point, but we still don't know when the device will finally see store shelves. The general idea is that it will launch at the end of the month in the U.S. and in the first week of November in Canada, but obviously we can't say for sure Either way, we do have a new leak of press renders of the Nexus 5.
The leaks come from none other than uber-leaker @evleaks, and it looks relatively similar to what we've already seen. It has the new homescreen UI that we're expecting with Android 4.4. The only difference is that the last press render had the time of 8:40, and this one has the time of 7:00; but, that doesn't really mean much. There is also a new background in this render, but it likely isn't the default.