A new ESPN sports app for iOS and Android is here, and it is awesome
3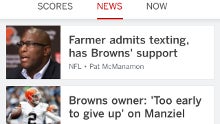 ESPN is the most watched and most trusted name in sports broadcasting, so it's great news that the parent company is going for a complete overhaul of its online and mobile presence. The ESPN Sports site will don the new design and functionality very soon, but ESPN is not resting on those laurels only, and is introducing brand new iOS and Android apps, too.
The goal seems to be to keep ESPN front and center on your phone's homescreen at all times, it seems, as the app design is geared towards interactivity, as well as real-time news and commentary. The new SportsCenter will offer streamlined and extremely fast experience, with special attention given to the tablet version, where the bigger screens will offer more functionality.
There is a new "Now" section, too, where the ESPN team can throw tweets, vids, photos and quick comments that would otherwise take some time to get to the "News" tab. The app for both iOS and Android is now called only ESPN, and will be hitting your mobile device from the source links below.