500 Nokia Lumia 800s up for grabs for US developers
7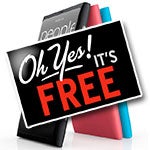 In addition to the news that the
Nokia Lumia 800 will be hitting the US unlocked in the next few months
, Microsoft has more great news for US-based Lumia enthusiast. AppHub subscribers just received word that Microsoft will be giving away 500 Nokia Lumia 800 handsets to developers.
To qualify for the prize, you must publish a new Mango app to the Marketplace between January 1, 2012 and February 10, 2012. Other than that, you just need to be an AppHub member and shoot Microsoft an email when the app gets published. Seems easy peasy. Here's the official copy from Microsoft:
We invite you to ring in the New Year by publishing a qualifying new app to the Windows Phone Marketplace.
Be one of the first U.S. App Hub members to publish a qualifying new app that combines functionality and features with the great Windows Phone UX this year and you may be among the first in the country to show off your very own Nokia Lumia 800 device.
To continue spreading the holiday cheer (and the excitement surrounding the new Nokia Lumia devices), we are giving a Nokia Lumia 800 phone to the first 500 U.S. App Hub members who publish, to the Windows Phone Marketplace, a completely new Windows Phone 7.5 app that meets the qualification requirements stated below, as determined by the Windows Phone Team. We think you'll agree: it's an exciting time to be an App Hub member!
Get started on your app today and cross "building a Windows Phone app" off your New Year's resolution list.
Here are the basics (see below for full terms and conditions):
1. Your App must be published to the Windows Phone Marketplace and have a release date that is, or between, January 1, 2012 and by February 10, 2012 (by 11:59 PM PST).
2. Your App must:
Target Windows Phone 7.5;
Work as described;
Include Fast App Switching; and
Conform to Metro guidelines.
3. You must be a U.S. registered member of App Hub.
4. You must then email the following information to WPNewYear@microsoft.com:
Name (matches App Hub account):
Mailing Address (where device will be shipped-not used by Microsoft for any other purpose):
App Hub Publisher/ISV ID #:
Application ID:
Marketplace deep link:
Application publication date:
Uses Fast app switching (yes or no):
Conforms to Metro guidelines (yes or no):
We are excited by all of the great apps that we see being published in the Windows Phone Marketplace on a daily basis. We look forward to seeing what you create!
To a very app'y New Year!
The U.S. Windows Phone Team
source:
WMPowerUser