5 of the best sports games available on Android and iOS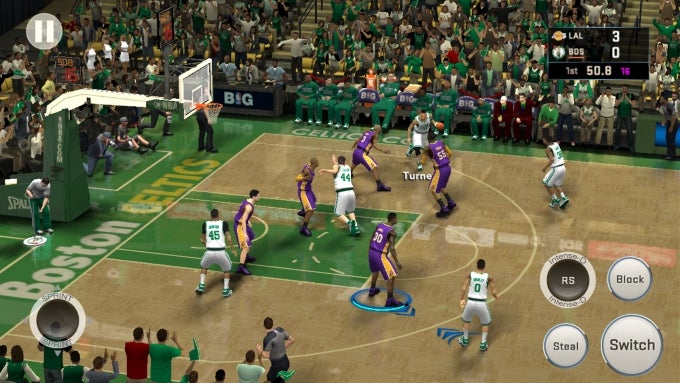 Fans of sports games are in no position to complain, for mobile is ripe with high quality titles encompassing nearly every major discipline. The hardware power of current-generation handsets has made it possible to enjoy a level of realism that's hardly been expected before on smartphone screens. So tune in and check out these five blistering games, all in glorious 3D and featuring touch-optimized controls for maximum enjoyment!
MLB Perfect Inning 16
MLB Perfect Inning 16 is an official licensed product of the Major League Baseball Players Association. It features day and night-time stadiums with spectacular lighting and charming scenery, Black Edition players, a Coach & Manager system to take your team to the next level, and Career Events – completing surprise missions to build up players' careers.
WGT Golf Game

WGT Golf now features the 2016 Virtual U.S. Open and famous golf courses. Players can experience a new stroke play on Front 9 of Pebble Beach and St Andrews of the 2015 Open Championship, along with Bandon Dunes and Chambers Bay from the PGA Tour. The simulation includes the complete golf game and is built with the best GPS and 3D technology on offer.




Table Tennis Touch

Table Tennis Touch features high quality graphics and intuitive swipe controls, as well as realistic high speed gameplay and multiple game modes. You can play a career mode that features tournaments, leagues and special events. There are mini games as well, with 13 unique ping pong challenges such as Half Table, Skittles, and Accuracy Zones. Multiplayer is an option as well, with the ability to challenge friends in both local and online real-time multiplayer. The bats can be customised with over 30 bat designs, and the simulation has an unprecedented level of realism, including flashy arenas, realistic physics, and a sophisticated opponent AI.
FIFA Mobile Football
Currently on Android, with an iOS version coming soon, the new FIFA Mobile Football game lets you build and manage your team, play head to head, and keep coming back for daily updated content. The game has been completely redesigned and built exclusively for mobile with a download weighing in at just under 100 MB. Still, the new FIFA features over 30 leagues, 650 real teams, and 17,000 real players.
You can be the manager of your favorite team, creating a bigger and deeper squad, making lineup adjustments on the fly, and changing tactics before every game. You will also get to enjoy endless thrilling matches, keeping the power of your team in your hands with bite-sized plays and updated controls.
The game also features playable Live Events that change hourly, letting you take a shot at different prizes, packs, and player Items. For the first time, you can also participate in Leagues, which is a social experience that lets you join forces with friends and gamers from around the globe. You can test your skills in inter-league championships or take a shot competing against worldwide leagues to climb leaderboards and conquer top opponents.
NBA 2K16

NBA 2K16 includes full MyCAREER, Blacktop, and Season modes mode as well as a new soundtrack curated by pop super-producer DJ Mustard, renowned producer and rapper DJ Khaled, and legendary hip-hop producer DJ Premier. The game offers enhanced graphic and player models, new animations with smoother movement, and more realistic articulation with new controls and expanded device support. Euroleague teams are now available as well, as the NBA 2K Store offers equipment, courts, VC, updated content, and other goodies for enthusiastic players.







ALSO READ