5 of the best MMO RPG games you can play on your Android or iOS smartphone
3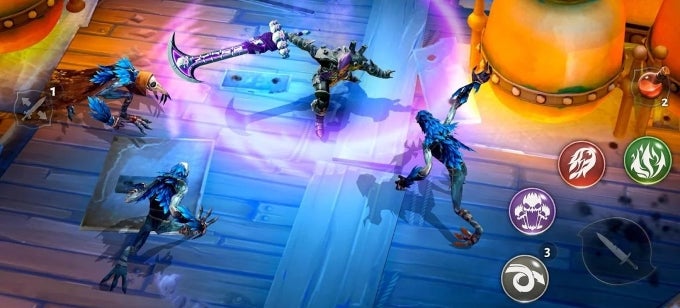 The abundance of MMORPG games is emblematic for mobile gaming. With millions of potential players out there and the barrier for entry being lower than it's ever been, it's no wonder game publishers from different corners on the world are tackling this genre so aggressively.
To let you dip your toes in the wonderful fantasy worlds of MMORPGs, We've rounded up five of the nicest, most popular and well-maintained titles that you can play on your smartphone. Being free to play, they are practically yours for the taking!
Legion of Heroes
Legion of Heroes is a 100% Free-to-Play mobile 3D MMORPG featuring dynamic real-time action, PvP and guild wars. It will let you explore a world full of fantasy, recruiting heroes to train, customize, and gear up your squad to be the ultimate hero. The game boasts an epic 3D fantasy world with real-time action, hundreds of unique heroes, real time open-world PvP in the Coliseum Arena every week, massive 45v45 PvP Guild Wars, live chat with players and Game Masters, and more goodies.
Avabel
AVABEL ONLINE is a 3D-MMORPG with exhilarating features such as smooth combo strikes, sequential attacks with jump action, hunting monsters and quests in the MMO field "Main Tower" (multiplayer field), or the "Dungeon" in the MO Field (Played by parties or by solo). There's also a PvP mode, or the tower scramble mode where a max of 1000 players fight each other in real time. It's a pretty epic game, despite some of the best parts inevitably getting lost in translation.
Dungeon Hunter 5
Dungeon Hunter 5 features a solo campaign where you hunt down monsters and villains through 69 missions and discover a variety of environments, from the shattered realm of Valenthia to the cold and barbarous Valen Outpost. You can also rally up to 3 other players to fight side-by-side in co-op mode, or hire friends as allies to help you along your journey of vengeance. The game contains over 900 pieces of armor and weaponry and lets you unleash hundreds of devastating spells and skills, mastering the Elements by strategically equipping the best spells and gear for each mission. You are also to protect your loot with over 60 Trap Rooms and 230 different Minions.
Order & Chaos Online
OCO offers one of the most complete MMO experiences available in a mobile game. It features an advanced character creation system, 5 races, over 15,000 skills and 8,000 pieces of equipment to evolve and gather. You can explore the world of Haradon on your own, or take part in a multiplayer experience where you make friends or enemies, trade, duel, communicate, and otherwise exist. Feel free to join a party or guild to become stronger and coordinate with your teammates to overcome the legendary dungeons. There are over 1,500 quests to perform, so there's plenty in there to keep you busy.
Heroes of Incredible Tales
HIT lets you slice and dice monsters and travel through spectacular 3D environments powered by the Unreal Engine 4. It has simple controls for massive combos which include aerial attacks, throws, and knockdowns – all with just one tap. There are tons of equipment and weapon enhancements to customize your hero to fit your playstyle, or outfit them in your unique style with a variety of skins. You can participate in real-time raids and enter the arena to challenge other heroes, or go on quests to explore the realm and become the hero of your own tale.
ALSO READ