4-way video chats on Android and iOS now possible with ooVoo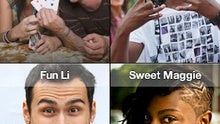 4-way video chats on a smartphone or a tablet aren't something totally new. After all, Fring added the functionality to its mobile clients way over a year ago. Yet in case you aren't happy with Fring, perhaps it is time to give ooVoo a try. The Android and iOS clients for the most awkwardly-named video-conferencing app have been updated to support chats with up to 12 participants, and the video feed for up to 4 of them can be displayed simultaneously and in high quality on your device's screen.
But that isn't all that the service's Android client is getting. Android ooVoo users will now enjoy deeper platform integration, meaning that missed calls will be listed in your smartphone's log, and contacts will merge with your address book. Moreover, contacts that are available will be listed and easily accessible from a home screen widget. Last but not least, texting during calls is now possible, and support for push notifications has been added.
In case you aren't familiar with ooVoo, the popular VoIP application is not available only on mobile devices, but on PCs and Macs via its Facebook client. It is used by over 54 million people worldwide, with about 100,000 new joining the fun each day. Interested? Then follow the source link below and give it a shot.
Recommended Stories