2013 Smartphone Repairability Index: Galaxy S4 gets 8/10, HTC One at the bottom
20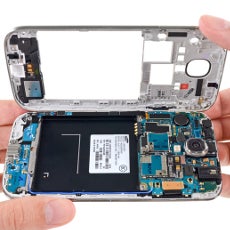 The skillful folks from iFixit posted their 2013 smartphone repairability chart, which includes the handsets they've been working on so far, trying to pry the screen open with a spudger, removing thick layers of adhesive, and analyzing what they find inside according to their own repairability standards.
From this year's flagships, the
Samsung Galaxy S4
takes the top with an 8/10 rating, which is also the score for most smartphones from the Koreans, due to their flexible plastic design that lets you easily remove the back cover, swap the battery, or access internal components.
The only downside of the S4's repairability is that the internals are glued to the back of a "
fused display assembly
," which is quite expensive to replace, too, as only Samsung is making those Super AMOLED Full HD panels. The
iPhone 5s
is in the middle of the road with a 6/10, while the unibody aluminum
HTC One
gets the worst of it with the lowest 1/10 score.
Apple

iPhone 5s

2013

Front panel is fairly easy to remove and replace.
Battery is adhered in place and difficult to remove.
Proprietary pentalobe driver required for opening.

6

Apple

iPhone 5c

2013

Front panel is easy to remove and replace.
Battery is adhered in place and difficult to remove.
Proprietary pentalobe driver required for opening.

6

Motorola

Moto X

2013

Modular design allows replacing of individual components.
Only a single type of screw is used throughout.
Strong adhesive on the rear cover makes opening difficult.

7

Samsung

Galaxy S4

2013

Battery is easy to replace.
Very easy to open for access to internal components.
Components adhered to the back of a fused display assembly.

8

Blackberry

Z10

2013

Battery is easy to replace.
Standard screws make the device easy to open.
Smaller components are strongly adhered in place.

8

HTC

One

2013

Solid external construction improves durability.
Virtually impossible to open without extreme damage to rear case.
Battery is buried under motherboard and adhered to midframe.

1

Google

Nexus 4

2012

The back cover can be removed with common tools.
Pressure contacts throughout the phone ease disassembly.
The battery is held in place with strong adhesive.

7

Samsung

Galaxy Note II

2012

Battery is easy to replace.
Very easy to open for access to internal components.
Components adhered to the back of a fused display assembly.

8

Apple

iPhone 5

2012

Front panel is easy to remove and replace.
Battery is relatively easy to replace.
Proprietary pentalobe driver required for opening.

7

Samsung

Galaxy S III

2012

Battery is easy to replace.
Device is easy to open.
Components adhered to the back of a fused display assembly.

8

Motorola

Droid 4

2012

LCD and front glass are not fused and can be replaced individually.
Tons of adhesive seals the phone and its components.
Replacing the front glass requires complete phone disassembly.

4









source: iFixit