10 rugged cases for the Galaxy Note5 to protect King Phablet against the dangers of adventure
26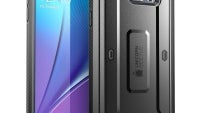 Hey there, adventurer! Looking for a hip case to protect your Galaxy Note5 from the dangers of nature? Look no further. We've lined up 10 marvellous cases with cushioned corners, hard polycarbonate shells, built-in screen protectors, snap-on designs, and long warranties. Precise-cut for Samsung's esteemed phablet, these cases should do a great job guarding it from drops, dust, impacts, and whatever else might be waiting outside!
Some cases also feature belt clips, built-in kickstands for propping up your smartphone, port covers, and everything else short of a built-in gatling gun for protection! Of course, your Galaxy Note5 being all wrapped-up in protection doesn't mean you won't be able to access its buttons and wide selection of features. So don't hesitate, you won't have to take your phone out of the case anytime you want to use it or anything!
As usual, click or tap the blue links in the slideshow, and they will take you straight to Amazon where you can buy the case.