i-mate Ultimate 8502 Preview

This is an unlocked GSM phone which can operate
in the US on AT&T and T-Mobile (without 3G).
Introduction:
Design:
The phone doesn't follow the new trend where the business devices also offer an attractive design as in HTC Touch Diamond for example. Such a massive and serious smartphone can hardly be defined as stylish.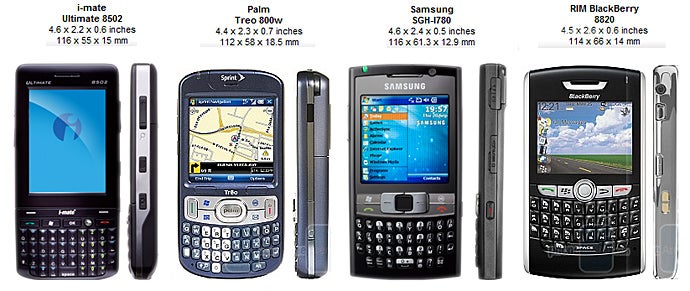 You can compare the i-Mate Ultimate 8502 with many other phones using our Size Visualization Tool.
2.6-inch display
with a resolution of 240х320 pixels. Below it, we have the full QWERTY keyboard, which will most likely fit the needs of the people who often text or send emails.
On the left, we have the 3-way wheel and the OK button. The volume control and the notes/voice commands shortcut accompanied by the camera dedicated key are located on the opposite side.
On the top are the power on/off button and the stylus and the 2.5 mm jack and miniUSB slot, also used for TV out are located on the bottom. Strangely, you cannot use it with a standard monitor. The loudspeaker and the 2-megapixel camera with flash are located on the back.
Interface:
The prototype of i-mate 8502 runs on Windows Mobile 6.0 OS without any personalizations. This is quite a disappointment, considering the fact that a common practice between the rest of the advertisers is to enhance the software in order to make it user-friendly.
It's the same story with the standard
browser
in the face of the mobile version of the Internet Explorer. It's way behind compared its rivals Opera and Safari.
A preloaded GPS navigation software is not present either. Luckily, there are solutions that can be downloaded via the internet.
As it can be expected from a business oriented device, the
camera
has gotten the minimal attention possible with a simple interface and only a few setting options.
i-mate 8502 looks like a promising solution, especially for people whose work has to do with a lot of travelling and heavy writing of text messages and emails.
We'll share our impression from the i-mate 8502's performance once we get our hands on a final unit and review it.