Sony Xperia Z2 vs Samsung Galaxy Note 3
68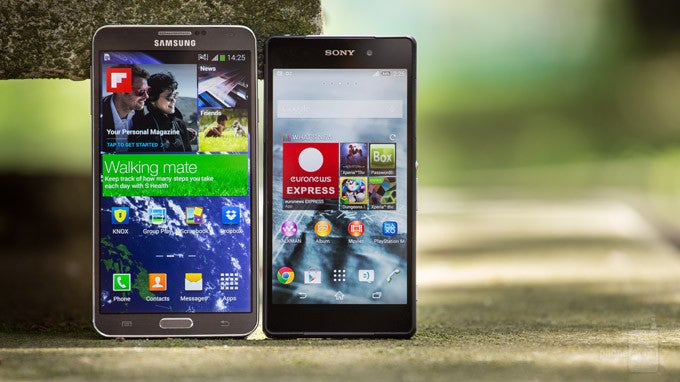 Introduction
The
Sony Xperia Z2
is just starting to hit shelves: a product of relentless iteration, it is the third in a lineage of Sony flagships that focus on combining a sleek design with state-of-the-art hardware. Its flagship status will put the Z2 alongside some of the best selling Android devices that out on the market, and in this article we'll see how it fares against the
Samsung Galaxy Note 3
, a phablet with a larger display, but almost equally capable hardware and a good camera.
The Xperia Z2, on its part, features a 5.2-inch 1080p display, the latest Snapdragon 801 system chip, and a 20-megapixel main camera. It is also sealed from the elements in a futuristic-looking body made of glass and metal. The Note 3's highlights include a 5.7-inch 1080p screen, a Snapdragon 800 chip, and a 13-megapixel shooter.
A battle of Sony's sleek Xperia style against the cartoonish Samsung TouchWiz, of fashionable glass design versus utilitarian plastic, of an LCD display against AMOLED technology, the clash between the Xperia Z2 and Note 3 promises to be fascinating. Let's see if we can come up with a winner, shall we?
Design
The Xperia Z2 continues on the Sony tradition of sleek looks and glass body, while the Galaxy Note 3 features an utilitarian plastic design.
The Sony Xperia Z2 features a stylish monolithic design with glass on its back and front, while the Samsung Galaxy Note 3 is made of the more mundane (yet still practical) plastic, fashioned to look like leather with a soft-touch feel. Design is a matter of personal preference, but it's clear that the Z2 is the one that makes the bolder statement, a fashionable device with looks that catch the eye more.
In terms of size, the Xperia Z2 and Note 3 are clearly two large phones. The Xperia Z2 has evolved to be a bit narrower than its predecessors, but it's still hard to use single-handedly and it's one of the largest of 2014 flagship phones. The Note 3, on the other hand, is a phablet at heart - considerably taller and wider, with a 0.5-inch larger screen. Both are almost equally thin, but neither breaks any records: the Xperia Z2 measures 0.32 inches thick, while the Note 3 is a hair bigger at 0.33 inches.
The Z2, has one definite advantage over the Note 3, and that is its resistance to the elements. The Sony handset is protected from dust and water, carrying the IP58 certification. This rating means that the phone can withstand submersion in up to 5-feet (1.5-meter) deep fresh water (don't get it near salt water, though!) for up to 30 minutes, and that it is protected against low-pressure water jets.
In terms of buttons, the Xperia Z2 applies meticulous attention to detail with beautifully crafted metal buttons. The round lock key on the right is particularly well made, but can be just a bit too small and shallow. Also on the right are the volume rocker with a curved shape, but again it has a muted response and is not very clicky, and there's also a dedicated two-way camera shutter key that's actually fine. The Galaxy Note 3 in contrast uses plastic buttons that look way more generic, but while they lack the style, they are a bit easier to press, and get the job done.
Sony goes one step further than before with the Z2, introducing stereo speakers located inconspicuously on the front in the form of slender strips right near the top and bottom borders of the phone. The top one hides a secret - an LED notification strip that starts blinking in different colors whenever you get a new message or an update. It's all conveniently color-coded and will flash in different colors for different notification. The Galaxy Note 3, in contrast, has a more ordinary single-speaker setup with the speaker on the bottom, and one LED notification light up front, above the display.
Display
The 5.2-inch IPS display on the Z2 is a huge step forward for Sony as it delivers great viewing angles, but its colors are oversaturated. The Note 3's 5.7-inch AMOLED display is also good, but whites are off and colors – even more overblown.
The Sony Xperia Z2 comes with a 5.2-inch display with a resolution of 1080 x 1920 pixels, while the Galaxy Note 3 has a larger, 5.7-inch screen that features the same 1080 x 1920-pixel resolution. Due to the different screen size, pixel density is a bit higher on the Xperia Z2: 424ppi versus 386ppi on the Note 3. This minute difference is not noticeable in real-world usage, and both screens are very sharp, even when you have to deal with tiny text fonts. You won't notice any pixelization on the Xperia Z2, and just slight one on the Note 3 (due to its non-RGB display, but more on that later).
The Xperia Z2 has an IPS LCD display (finally, Sony!), while the Note 3 uses Super AMOLED technology. First, we ought to say that this new Xperia Z2 display is a huge step up for Sony, a company that has had sub-par displays in its last couple of top-shelf offerings, and now finally makes advances with a display that no longer washes out hugely at an angle (it actually has good viewing angles).
The Z2 is the first Sony smartphone to come with a new Live Color LED technology, a term to describe the fact that display panel on the Z2 uses red and green phosphor lights in addition to the traditional blue LEDs. These lights in concert with custom color filters combine to theoretically achieve brighter, more uniform light.
Interestingly, while AMOLED (as on the Note 3) and LCD (as on the Xperia Z2) generally differ in that often Samsung's AMOLED screens feature much wider, unrealistically intense colors, that difference is diminished in the case of the Xperia Z2 and the Note 3 as both have pumped up colors. Still, the AMOLED on the Note 3 is much more intense and unrealistic.
The Xperia Z2 has very intense colors, with one of the deepest (if not the deepest) reds and blues we've ever seen, and an overall much wider than standard color gamut. The overall color appearance is comparable to the wide and rich colors of the Note 3, but that does not make them perfect when it comes to color fidelity - the wider-than-normal tones do not look natural at all on either handset. We should note that both the Xperia Z2 and Note 3 provide consistent saturation - it is just that the wide color gamma makes colors appear way too surreal. 
Outdoors, both handsets do a great job as they can get sufficiently bright and reflections are reduced nicely, so overall it's relatively easy to use them under the bright sun. The Xperia Z2 has also gotten two new display options: you can now choose to enable or disable glove mode, as well as adjust the white point to your liking. The Note 3 also allows you to tweak settings like super sensitive mode, so it's not behind in this regard.
Display measurements and quality