Samsung Galaxy S4 Active Preview
17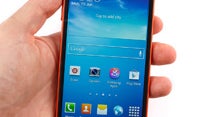 Introduction:
IP67 – such cryptic code is attached to phones, tablets, and all kinds of electronic gadgets made to withstand damage caused by the elements. In particular, this rating indicates that a given device is dust-tight and can survive a dunk into water for at least 30 minutes at a depth down to 1 meter.
One such device is the
Samsung Galaxy S4 Active
, which we are now giving a detailed preview. In many ways, the smartphone is very similar to the
Galaxy S4
flagship – it has a 5-inch 1080p screen, a quad-core Snapdragon 600 chip, 2GB of RAM, 2600mAh battery, and Android 4.2 with TouchWiz sprinkles on top is in charge of all this. Characteristics like these are enough to place the S4 Active right into the high-end category. However, it has more than a few peculiarities of its own – peculiarities that truly make this smartphone stand out of the crowd. Read on in case we've sparked your interest already!
Design:
This is clearly not your typical Samsung Galaxy smartphone – no glossiness, no faux metallic elements, no useless bling can be found anywhere on it. Instead, the Samsung Galaxy S4 Active has a manly, adventurous appearance. Its body is made of matte plastic, which is far more durable than glass or metal and should not scratch easily. What we like the most about it, however, is that there's a fine texture covering the smartphone's surface, providing excellent grip. Thanks to that design feature of the handset, combined with its ergonomic shape, one can easily get a comfortable hold on it even with gloves on.
Our Samsung Galaxy S4 Active has a bright orange back plate. This could potentially make it easier to see in case the phone is dropped underwater or in tall grass. Those who prefer more conservative colors will have
grey and blue as options
to pick from.
Compared to one of its rivals – the
Sony Xperia Z
, the Samsung Galaxy S4 Active is noticeably thicker, but still well within the acceptable range. It is also very close to Sony's flagship in terms of size and weight. Single-handed use of the Galaxy S4 Active may be a challenge, depending on the size of the user's hands, although we were mostly comfortable with its proportions.
Taking off the back cover of the Samsung Galaxy S4 Active reveals what gives it its water-resistant properties. There is a rubber band around
the sides
, preventing water from penetrating into the housing and damaging the phone's internals. However, we must note that while the Samsung Galaxy S4 Active is protected against dust and water damage, it can't be regarded as shock-proof. There are no rubber elements on its sides to absorb the energy of shock and vibrations, not to mention that the 5-inch screen on its front is still vulnerable to cracks or scratching. Simply, one must avoid dropping it on hard surfaces.
There is an excellent set of physical buttons present on the Samsung Galaxy S4 Active. They are all textured and respond with an audible click when pressed. Since they are all raised well, one can operate them comfortably even while wearing mittens.
Display:
Just like the Galaxy S4, the Samsung Galaxy S4 Active comes with a
5-inch touchscreen
. The resolution is also identical –
1080 by 1920 pixels
, resulting in an outstanding pixel density of over 440 ppi. However, a TFT LCD screen has been used instead of a Super AMOLED panel – a solution that has both its positive and negative sides.
On one hand, the Samsung Galaxy S4 Active is easier to use outdoors as its screen is slightly brighter than the S4's Super AMOLED display. Under the right angle, we had no troubles reading email, browsing through our contacts, using the camera interface, and even checking out a web page or two on a bright, sunny day. Also, the level of detail is nothing short of excellent due to the high pixel density, while colors are reproduced in an accurate and natural manner. But on the other hand, The S4 Active's screen can't quite achieve the deep blacks seen on Super AMOLED panels.
Nevertheless, we are more than content with the screen outfitted on the Samsung Galaxy S4 Active. It is big, bright, beautiful, and perfectly suitable for every task. On top of it all, Samsung has made the screen sensitive enough to be used with gloves on – a must-have feature for today's rugged smartphones.
Recommended Stories