Pronto Review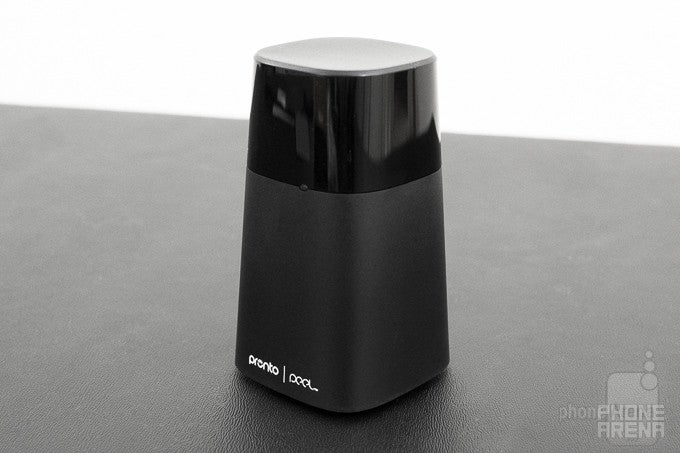 Introduction
It's highly acclaimed, superior performing, incredibly fast, and it also happens to even sport a pretty good looking design. Those are just a fraction of the iPhone's qualities, as time after time, it's been touted as one of the best phones around. While it's not heavy on the specs sheet, Apple's pride and joy has shown us that the experience supersedes everything else – and that's what makes it so great!
In contrast, there are a handful of high-end Android smartphones that come equipped with a myriad of amenities not offered by the iPhone. One of them being an IR blaster, which offers users the choice of being able to control their home entertainment system through their phone. Well, if you've been itching to have this sort of feature, the Pronto will undoubtedly get you surfing through a lot of content using nothing more than your prized iPhone.
Packaging contains:
IR extension cable
4 AA alkaline batteries
Quick start guide
Design
At its core, Pronto transforms your iPhone into a personalized universal remote control, doing away with some of the hassles of having to use several remotes. Its design is simple and minimalist, something that blends well with the assortment of furniture in your living room. Sporting a two-toned plastic construction, where the top compartment is glossy and the bottom being a matte finish, it doesn't really scream anything magnificent or commanding with its design – it's just meh.
While it's bottom heavy to ensure it can't be easily knocked over, there's a bit of hollowness around the middle and top sections of Pronto. Around the front, there's an LED light to indicate its connection status – while the rear accommodates its IR blaster and 3.5mm port that's used by the optional IR extension cable. Naturally, its placement requires it to be within the line of sight of your television, cable box, AV receiver, and anything else you might have.
On its underside, the bottom piece can be twisted off to gain access to its battery compartment. It requires 4 AA batteries, which are thankfully included in the packaging. Besides that, there's really nothing else to Pronto's design. Like we said, it's as minimalist as they come. Hey, at the very least, it can also double as a paper weight.
Recommended Stories